September 06, 2021

TAIHO PHARMA ASIA PACIFIC PTE.LTD.
Protect Yourself and Loved Ones with Efil, An All-New Anti-Bacterial and Anti-Viral Disinfectant with 24-Hour Effectiveness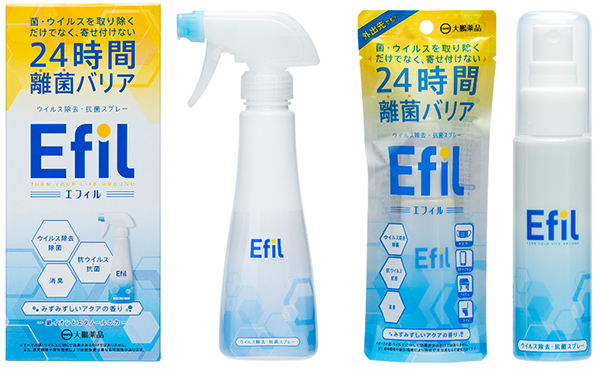 Developed with the promise to "turn your life around", Efil offers a reliable protection
against pathogens and is a safe and effective product suitable for everyone.
Singapore, 6 September 2021 – Since the global pandemic outbreak, disinfection has become an even more important part of our lives and an essential step in safeguarding people's health and well-being. In response to this new norm, Taiho Pharma Asia Pacific Pte. Ltd., a subsidiary of Taiho Pharmaceutical, a Japanese pharmaceutical company that researches and develops innovative medicines for the treatment of cancer, is launching Efil, its first-ever consumer household disinfectant product in Singapore this September. This release marks Efil's inaugural launch outside of Japan. Designed to disinfect and kill 99.9% of bacteria and viruses, including SARS-CoV-2, within seconds, Efil also provides 24-hour protection against bacteria and viruses1.
Formulated using an original technology which combines the primary ingredient ethanol with silver and zinc ions, Efil provides a powerful germ-isolating barrier that keeps the bacteria and viruses at bay. The fast-acting effect of ethanol eradicates the microbes, while the silver and zinc ions maintain the anti-viral and anti-bacterial effect for 24 hours, continuing to kill germs throughout the day1. The product is also anti-mold and can be used as a deodoriser.
Made in Japan, Efil comes available in two sizes, a 300ml disinfectant spray bottle suitable for households (S$24.90) and a 50ml travel-friendly spray bottle (S$13.50) that keeps one protected wherever they go.
Bacteria and viruses are not just found in homes; they are often brought back to our living spaces from the outside environment. By starting a good habit of sanitising clothes2, bags3 and face masks4 with Efil before heading out, users can ensure 24 hours protection against bacteria and viruses when outdoors, especially at high-contact areas such as a crowded train or malls.
Efil is also designed to clean and disinfect high-touch areas in homes and spaces, and is safe to use on surfaces such as doorknobs and handrails5, toilets, switches, floors, walls and more. Furthermore, with working from home becoming more prevalent, Efil comes in handy for daily disinfection of frequently touched surfaces as work desks, computer monitors, mouse, keyboards, smart phones and other electronic devices6. By having Efil equipped in cars, drivers can also embark on a daily routine to sanitise door handles, steering wheel, switchgears, infotainment interface (and even the often-neglected seat belt buckles!) to ensure a safer commute for everyone.
Developed with a fresh aqua scent, Efil is free of any unpleasant ethanol or chlorinated scent and delivers a germ-eliminating and deodorising effect for carpets, bedding mattresses, towels and more. It is also effective in cleaning kids' items such as baby carriers, strollers, blankets, play mats, and toys that children sleep or play with. Parents are encouraged to sanitise their electronic devices with Efil before handing them to children to play, to minimise any accidental transmissions of harmful elements.
"Efil" which is "Life" spelt in reverse, was named in hopes that the product can completely turn people's lives around. With its core business in drug development and human health, Taiho Pharmaceutical's mission is to create a consumer product that is suitable for everyone, including people with weakened immune systems. Regular individuals, and those susceptible to bacterial and viral infections such as elderly and young children, people who require caregiving support like cancer and diabetes patients and even their caregivers, can use Efil and go about their daily lives with a peace of mind, knowing that they have a 24-hour protection that will keep them safe. With the all-new Efil line-up, Taiho Pharmaceutical aims to continue making a positive impact on people's health and improve their quality of life.
The Efil disinfectant line is available at the following retailers:
Efil 50ml (S$13.50) and Efil 300ml (SS$24.90)
All Welcia-BHG stores, Lazada and Shopee from 1 September 2021
To find out more about Efil, please visit:
Efil website | Instagram @efil_sg | FB page @EfilSG
1 Data on file. Battery of tests were conducted including tests in accordance with Japanese Industrial Standards (JIS) and International Organisation for Standardisation (ISO). This product is not effective against all bacteria and viruses. Efficacy may differ, depending on usage and storage of product.
2 Efil does not contain chloride and is suitable for cloth products. However, Efil is not advisable on light-coloured textiles and delicate fabrics such as wool, silk, rayon, acetate and cupra, or fabrics that are sensitive to water and with a water-proof or water-repellent effect, as the product may stain and damage the material.
3 Efil is not advisable on leather, plain wood or paulownia wood, and areas coated with water-repellent wax, paint or vanish, or plastics such as acrylic or styrene.
4 For face mask, spray on its exterior and let it dry completely before wearing.
5 Use with care as the product may cause spots or discolouration.
6 For smartphones and other electronic devices, spray product on a soft cloth before cleaning. Do not spray directly on the device.
If you'd like to share about Efil on social media, kindly use hashtags:
#efilsingapore | #efilprotects24hours | #MustHave24HourDefenderAndProtector
About Taiho Pharma Asia Pacific
Taiho Pharma Asia Pacific Pte. Ltd. was established in Singapore in August 2011 as a wholly-owned subsidiary of Taiho Pharmaceutical Co., Ltd. The company focuses on clinical research, regulatory affairs, medical affairs, and serves as a hub for Taiho's oncology business in Southeast Asia. It works closely with local medical oncologists and the other medical professionals in area of cancer care.
Taiho Pharma Asia Pacific continues to work in partnership with medical oncologists and the other medical professionals in cancer care in the Southeast Asia region to provide high quality data research and development to introduce effective anti-cancer drugs for people around the world. Taiho Pharma Asia Pacific's goal is to protect and nurture human lives, as the company respects that every life is precious and irreplaceable.
About Taiho Pharmaceutical Co., Ltd. (Japan)
Taiho Pharmaceutical, a subsidiary of Otsuka Holdings Co., Ltd., is an R&D-driven specialty pharma company with a focus on oncology. Taiho Pharmaceutical also has development programs in allergy and immunology, urology and consumer healthcare products. Our corporate philosophy is simple: "We strive to improve human health and contribute to a society enriched by smiles."
For more information about Taiho Pharmaceutical, please visit:https://www.taiho.co.jp/en/.
ANNEX A
Product Category
Consumer household product
Volume
300ml (300 pumps) and 50ml (400 pumps)
Ingredients
Ethanol, purified water, isopropanol, glycerin, silver compound, sterilisation component (organic), zinc compound, fragrance
Uses
Removal of bacteria and viruses; anti-bacterial, anti-virus, anti-fungal and deodorisation effects for:


Cloth products (clothes, carpet, bedding, towels, strollers face masks etc.)
Interior surfaces (floors and walls, switches, doorknobs7, toilets, bed frames etc.)
Gadgets and devices8 (computers, smartphones etc.)
Other contamination (vomit and fecal matter etc.)

Directions for use
Removal of bacteria and viruses; anti-bacteria and anti-virus effects
After removing contamination, hold the bottle 20cm away from the surface and spray until it is sufficiently wet. Wait for a while before using. For fabric, wait until they are adequately dry before using.
Deodorisation
Spray directly several times on surface to deodorise.
Retail Price & Availability
Efil 50ml (S$13.50) and Efil 300ml (SS$24.90)
All Welcia-BHG stores, Lazada and Shopee from 1 September 2021
Imported by
Taiho Pharma Asia Pacific Pte. Ltd.
7 Use with care as product may cause spots of discolouration on metals.
8 Spray product onto a soft cloth before cleaning. Do not spray directly onto device.